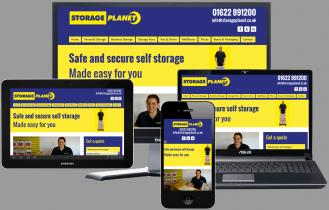 Web design
Web design is constantly evolving - our knowledge and experience keep pace at all levels to help you create a site that is contemporary yet easy to access.
What we do
Our understanding of the basic structure behind clear, crisp and efficient web design forms the bedrock of our business success.Our designs are responsive and translate successfully across all mediums such as desktop, laptops, tablets and other mobile devices.
In a matter of seconds, your site must communicate your brand and your message as well as appearing professional and logical.
Your site needs to appeal to everyone who visits regardless of why they are there. It could be to make a purchase, a customer service enquiry or simply to investigate what you offer; either way, they need to access your site and gain the information quickly and effortlessly. First impressions count.
How we can help
Our approach to web design is the result of careful planning, construction and the considered selection of user friendly services, leading to a tangible and effective end product for both you and your clients.
We use your literature, logos and brand information, encouraging you to share hopes, ideas and information concerning your company with us as much as possible; the more insight we can gain from you as to what you hope to achieve, the better site we can create. Communication is key to enable us to create your vision. With this in hand, we use our understanding and proficiency to create and design a website that gets your message across and puts your brand name firmly on the world wide map.
If required, we can take you to the next step of incorporating your on-line brand into other areas of your business. We can take your branding across all aspects of your business such as brochures, adverts and stationery.
What now?
For more information about our range of web design services, please contact us or give us a call on 01580 852 727.
We'd be happy to talk.