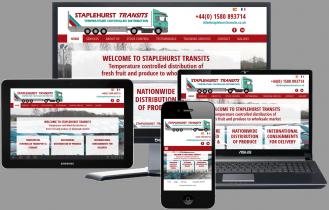 WordPress
WordPress is used by 59.6% of all the websites whose content management system we know. This is 26.5% of all websites. Due to this rise, we now offer WordPress development, as a alternative to our fully bespoke webdesign.


WordPress is a flexible and powerful platform and blog publishing platform. Over the years, WordPress has become a great content management system (CMS), the solution of thousands of websites, from blogs to entire sites.


We have partnered with WP Engine they are the industry leader in managed WordPress hosting. They provide best-in-class customer service on top of innovation-driven technology. This is why over 50,000 customers in 120 countries have chosen us for their mission critical WordPress hosting needs. Their WordPress hosting platform keeps sites fast, scalable, and secure.


We have also partnered with CloudFlare to help improve performance and decrease spam and other attacks.
On average, a website on CloudFlare:
Loads twice as fast
Uses 60% less bandwidth
Has 65% fewer requests
Is more secure
How we can help
We offer three types of WordPress services.
Existing Themes
Choose from one of the many hundreds of WordPress themes, we can set up, host and develop your site on one of these purchased or free themes. A cost effective and simple way to get your website up and running quickly. We can also add CloudFlare to help speed up and secure your WordPress site.
Bespoke Themes
We can create a bespoke theme for your website, integrate it, set it up, host and develop your site. A bespoke design but running on the WordPress system. A good solution for people looking for a unique design, wanting Wordpress functionality and not looking for a fully bespoke website. We can also add CloudFlare to help speed up and secure your WordPress site.
Development
We may be able to help with your existing WordPress site. Adding Plugins or themes and addressing performance and speed issues. We may also be able to help with adding content or minor tweaks and adjustments. This does depend slightly on how it has been originally developed. We may be able to add CloudFlare to help speed up and secure your WordPress site.
What now?
For more information about our range of WordPress services, please contact us or give us a call on 01580 852 727.
We'd be happy to talk.
Important note about WordPress
WordPress is a great CMS and continues to grow in popularity. Like anything though, it's not perfect.
If you use WordPress, chances are that you have installed plugins and themes to satisfy your particular needs. There are thousands of plugins and themes publicly available on WordPress.org and other third party websites but installing a plugin, a theme, or even WordPress itself, is just the first step. WordPress is a living project. Developers work hard on this CMS to provide us with a reliable platform and we can say the same thing for many of the plugins or themes available. To use new features or to prevent potential bugs, keeping WordPress, your themes and plugins up to date is very important.
WordPress and its plugins and themes are like any other software installed on your computer, or like any other application on your devices. Periodically developers release updates which provide new features or fix known bugs.
As a user, when a WordPress update is released that fixes a bug, you should update as soon as possible to have the most secure and stable versions of the product.